Pacemakers
Vitatron E Series
Vitatron's E-series is built on the success of a company that's dedicated to leading-edge technology without ever compromising the service, relationship and responsiveness you've experienced for over 50 years.
The E-series offers the new standard of care – an array of diagnostics, data and therapy for early detection, prevention and ongoing management of atria arrhythmias. Yet these high-tech pacemakers don't mean high complexity. Vitatron's E-series is smart and easy.
It's smart.
The E-series does things like searches for your patient's natural intrinsic conduction and reduces unnecessary ventricular pacing when possible. And it responds to your patient's activity level with an appropriate rate whether they're exercising or eating lunch.
RVP+ Reduces Unnecessary RV Pacing To Less Than 20%1
Reduced Ventricular Pacing+ (RVP+) reduces unnecessary RV pacing to less than 20%.1 This is essential to your patients because minimizing unnecessary RV pacing reduces the risk of AF, heart failure hospitalization and mortality.2-4
Research Shows…
The new standard of care in pacing is to reduce unnecessary right ventricular pacing to a minimum5
Every incremental 1% of unnecessary RV pacing increases the risk of AF by 1% and the risk of heart failure hospitalization (HFH) by 5.4%2

Atrial fibrillation is associated with significant morbidity, mortality and cost. ADD/AHA/ESC Guidelines for managing AF recommend aggressive treatment to help prevent stroke5
The Solution – RVP+
Continuously searches for your patient's natural intrinsic conduction
Quickly optimizes the AF delays relative to changes in your patient's PR intervals
Allows the AV delay to be extended up to 600 ms, thus maximizing conduction

Smarter Rate Response Lets You Customize Two Independent Set Points for Rate
A dual slope rate response allows you to independently customize the rate response for activities ranging from reading a book to running a marathon.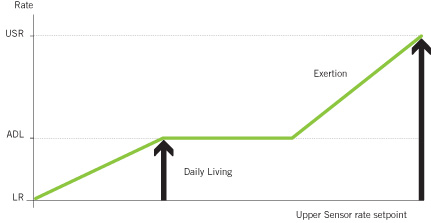 Rate Profile Optimization analyses the activity level of your patient and optimizes the rate response set points and target rates. This helps to achieve the appropriate rate support for both high exertion activities and those of daily living.
It's easy.
The E-series makes state-of-the-art pacemaker technology easy with automatic features and built-in tools to simplify your clinic follow-ups.
Ventricular Output Management Improves Patient Safety – Automatically
The E-series pacemaker regularly measures thresholds and adapts pacing outputs to a safe level, even when your patient's condition changes. And it all happens completely automatically.
Provides long-term threshold trends
Actively manages battery drain
Proven safe, simple and accurate6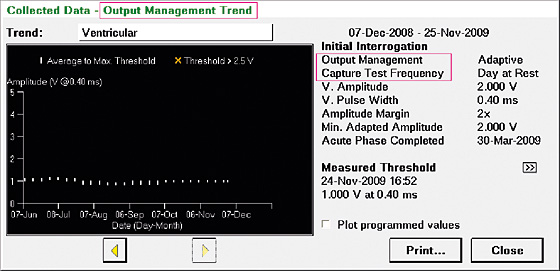 E-Series longevity is increased to 8% with output management and RVP+7
Your Patient's Device Is Automatically Checked Every Day
Lead impedance
Battery status
Atrial and ventricular threshold evaluation
Cardiac Dashboard II Gives You the Full Picture on a Single Screen
Now you can spend more time with your patient and less time with the device. Cardiac Dashboard II simplifies your clinic follow-ups by showing the full picture on a single screen.
After interrogating the device, the first screen you'll see provides the most significant information for your follow-up – a concise overview of relevant clinical and device data for your patient.
Patient information
Clinical areas of concern
AT/AF summary
High-rate episode data
Device information
Longevity status
Ventricular thresholds
Lead impedance
One-click links quickly give you more detail when you need it.
Vitatron E60 Specifications | PDF
Vitatron E50 Specifications | PDF
Vitatron E10 Specifications | PDF
Vitatron's E-series pacemakers offer the new standard of care – essential features for your patients and simplicity for you. It's smart and easy.
References
Melzer C, Sowelam S, Sheldon T, et al. Reduction of right ventricular pacing in patients with sinus node dysfunction using an enhanced search AV algorithm. Pacing Clin Electrophysiol. June 2005;28(6):521-527.
Sweeney MO, Hellkamp AS, Ellenbogen KA, et al, for the MOde Selection Trial (MOST) Investigators. Adverse effect of ventricular pacing on heart failure and atrial fibrillation among patients with normal baseline QRS duration in a clinical trial of pacemaker therapy for sinus node dysfunction. Circulation. June 17, 2003;107(23):2932-2937.
Wilkoff BL, Cook JR, Epstein AE, et al. Dual-chamber pacing or ventricular backup pacing in patients with an implantable defibrillator: the Dual Chamber and VVI Implantable Defibrillator (DAVID) Trial. JAMA. December 25, 2002;288(24):3115-3123.
Sweeney MO, Bank AJ, Nsah E, et al. Minimizing ventricular pacing to reduce atrial fibrillation in sinusnode disease. N Engl J Med. September 6, 2007;357(10):1000-1008.
Fuster V, Rydén LE, Asinger RW, et al. ACC/AHA/ESC Guidelines for the Management of Patients with Atrial Fibrillation: Executive Summary. A Report of the American College of Cardiology/American Heart Association Task Force on Practice Guidelines and the European Society of Cardiology Committee for Practice Guidelines and Policy Conferences. Circulation. October 2001;104:2118-2150.
EnPulse PMA-s Clinical Report. 2003. Data on file.
Vitatron G-Series/E-Series reference manual comparing 100% pacing at 2.5V in atrium in ventricle to 1.5V and 2.0V respectively, the minimum adjusted output using output management. Gelvan D, Crystal E, Dokumaci B, et al. Effect of modern pacing algorithms on generator longevity: a predictive analysis. PACE. September 2003;26:1796-1802.